Hi there!
I am another individual borne in Denmark last century.
The last thirty years I have lived abroad in Germany, USA, Scotland, The Netherlands and Sweden. Now I have the fortune of residing in the south of Sweden on a tiny farm.
My professional carrier has lead to my employment in many great companies like Kaisers Laboratorium, Dansk Elektro Instrument Fabrik, Vestas, Philips BsC, Vantive, Peoplesoft and Apple.
About 60% of my carrier I have developed electronic systems for measurement, process control and data aquisation.
During many years of physical illness, I developed a very fast high level C++ application, u3Base, for controlling LabJack equipment and recently also a GUI monitor over client/server for the u3Base system.
The picture is from Hesselø in Denmark where I pose together with our pet seal Igor. In the Danish language they are called seal dogs and their behaviour is not that far apart from man's best friend.
.
u3Base class for LabJack U3 (U9)
Have a look at
here
.
It is a high level C++ Interface to the Labjack
hardware
for the Linux OS.
In the pipeline is a stable version of client(s) / server system and a GUI visualization application to monitor and interact with an u3Base application.
Other links
LabJack
Class u3Base in C++ and method manual for the U3 on Linux.
Fiskeryd
Network and Support. (Site under reconstruction)
EDLAB
A website from mid 1990. It is no longer maintained, and left untouched since end 1990.
Hosting And Bespoke Applications
Fiskeryd Networks
is a hosting service with a difference. We want to be as helpful as possible to the small community of business and friends. Hosting at Fiskeryd Networks is personal, competent and the prices are relative low. Special server side programs can be developed to your specification. If you run a business you need a flexible and reliable host where you have personal contact to the hosing service provider. This is exactly what Fiskeryd Networks offers.
We can help you with web hosting, remote process control via the Internet, bespoke applications both hardware and software, Linux PC computer controlled process or teaching you the fine art of programming.
Where to find me?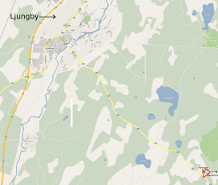 Map from E4 over Ljungby to Nybygget. Click for lager image (1MByte)
From Ljungby drive 1 mil (11km) of road 124 towards Liatorp and turn left towards Stensjöholm. It is the red farm house at the corner.
In case this makes no sense to you, consider waiting for the fly on your screen, to walk to the right point on the map.