Hi there!
I am another individual borne in Denmark last century.
The last twenty years I have lived abroad. Until now Scotland has been the country in which I have stayed the longest. Since that, The Netherlands was my favourite place for about five years. Now I have the fortune of residing in the south of Sweden on a tiny farm.
The picture is from Hesselø in Denmark where I pose together with our pet seal Igor. In the Danish language they are called seal dogs and their behaviour is not that far apart
.
u3Base class for LabJack U3 (U9)
Have a look at
here
.
It is a high level C++ Interface to the Labjack
hardware
for the Linux OS.
English words to Hieroglyphics
The utility
Hiero
converts English words into Hieroglyphics.
It is Khaled Al-Sham'aa who laid the ground for this, so thank you Khaled. This is not scientifically staged and is more intended for creative fun.
Other links
Vinyl skivar
Professionel kopi till CD och DVD eller fil på Internätt.
LabJack
Class u3Base in C++ and method manual for the U3 on Linux.
Computing Confidence
and how I can help you.
Thorium Power
the LFTR/MSR way, cheap, reliable, naturally safe.
Fiskeryd
Network and Support.
EDLAB
A website from mid 1990. It is no longer maintained, and left untouched since end 1990.
Hosting And Bespoke Applications
Fiskeryd Networks
is a hosting service with a difference. We want to be as helpful as possible to the small community of business and friends. Hosting at Fiskeryd Networks is personal, competent and the prices are relative low. Special server side programs can be developed to your specification. If you run a business you need a flexible and reliable host where you have personal contact to the hosing service provider. This is exactly what Fiskeryd Networks offers.
We can help you with web hosting, remote process control via the Internet, bespoke applications both hardware and software, Linux PC computer controlled process or teaching you the fine art of
programming
.
Where to find me?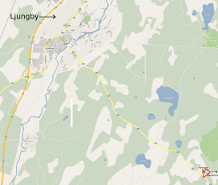 Map from E4 over Ljungby to Nybygget. Click for lager image (1MByte)
From Ljungby drive 1 mil (11km) of road 124 towards Liatorp and turn left towards Stensjöholm. It is the red farm house at the corner.
In case this makes no sense to you, consider waiting for the fly on your screen, to walk to the right point on the map.